BBK DAV College for Women Wins GNDU Overall General Sports Championship Trophy (Women)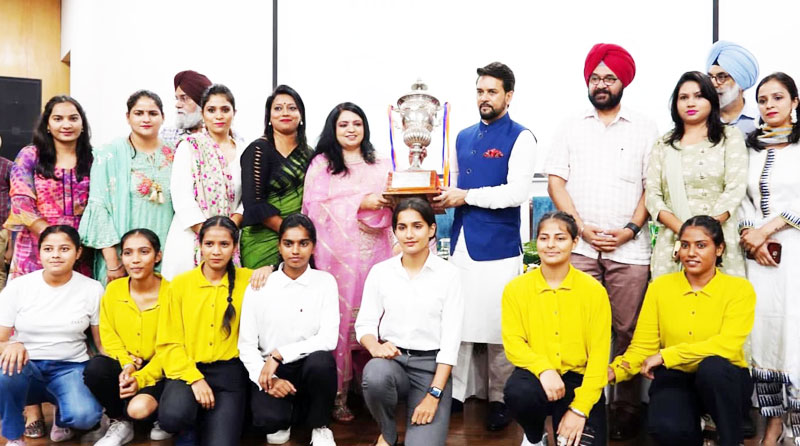 BBK DAV College was awarded the GNDU Overall General Sports Championship Trophy (Women) 2021-22, in a scintillating ceremony of 52nd Annual Sports Prize Distribution function, organized at Guru Nanak Dev University, Amritsar.
Mr. Anurag Thakur, Honorable Minister of Youth Affairs and Sports, Government of India awarded 29 outstanding sportswomen of the college with a cash prize of Rs.21,00,000/- ( Rupees Twenty one Lakh only)  for their commendable achievements in various sports. International players of the college, Ms. Taniksha Khatri (Fencing) and  Ms. Sushikala Durgaprasad Agashe (Cycling) got maximum cash prize of Rs.6,65,000/- and Rs.3,15,000/- respectively among women players.
It is pertinent to note that the college participated in 32 competitions and bagged positions in 24 competitions, out of which the college won eight Championship Trophies in Basketball, Track Cycling, Road Cycling, Handball, Kabbadi (N/S), Rowing, Canoeing and Kayaking, 1st Runners up positions in eight competitions Archery Compound, Archery Recurve, Weight Lifting, Hockey, Cricket, Football, Pistol Shooting, and Fencing and got 2nd Runners up positions in eight competitions i.e , Rugby, Judo, Karate, Softball, Rifle Shooting, Wushu, Kho-Kho and Boxing. Principal of the college, Dr. Pushpinder Walia, was also honoured with a memento and a shawl by the central minister for her remarkable contribution in sports. Ms. Sweety Bala, Head, Department of Physical Education was also honoured during the event.
Principal Dr. Pushpinder Walia congratulated the players and staff members for their splendid success. She further added that by offering state-of the-art infrastructure and other facilities to its sportswomen. BBK DAV has always inculcated the spirit of sports and will continue with its efforts in future as well.