BBK DAV College Lifts GNDU Overall General Sports Championship Trophy for the Seventh Time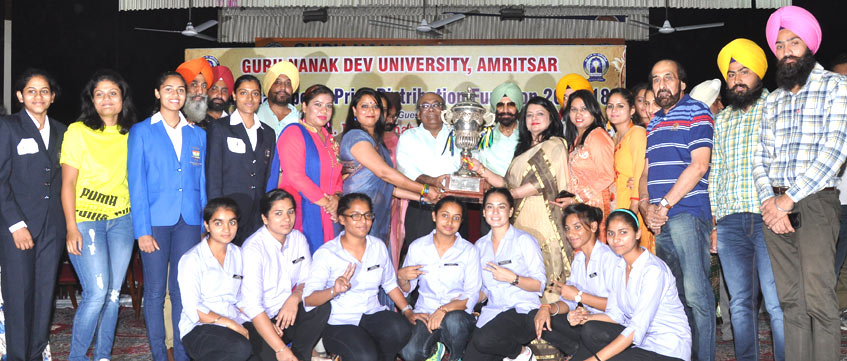 Continuing its winning streak BBK DAV College for Women lifted overall General Sports Championship Trophy consecutively for the seventh time and a cash award of rupees 35 lakhs.
150 outstanding players of the college, who excelled in different games received rupees 35 lakhs approximately as prize money by Shri. Rahul Bhatnagar, IAS, Secretary Department of Youth Affairs and Sports, Government of India, New Delhi and Dr. Gurdeep Singh, Joint Secretary, AIU New Delhi, oh the 48th Annual Sports prize distribution function 2017-18 at Dashmesh Auditorium, GNDU Campus. Five international cyclists of the college, Ms. Nayana Rajesh.P , Amritha Regunath, Aleena Reji, Vaishnavi Gabhane and Ms. Aashu Sharma got maximum cash prize of Rs. 4,28,000, Rs. 3,46,000, Rs. 2,40,000, Rs. 2,29,000 and 1,00,000 respectively amongst women players.
Besides this, Principal of the college, Dr. Pushpinder Walia was also honoured for being the Principal of the biggest contributing college towards MAKA Trophy and Mrs. Sweety Bala, Head, Department of Physical Education was also felicitated with cash award of Rs.4,000.
Out of the 52 Inter College competitions organised by competition Guru Nanak Dev University organised 52 Inter College & Our College participated in 49 and got 47 positions out of which Twenty Seven Championships i.e Canoeing, Rope Malkhumb, Pistol Shooting,  Rowing, Table Tennis, Tug of War, Judo, Yoga, Kayaking, Lawn Tennis, Archery Wooden, Wushu, Power lifting, Weight Lifting, Road Cycling, Track Cycling, Basketball, Wrestling, Fencing, Rifle Shooting, Boxing, Softball, Korfball, Baseball, Yachting, Kick Boxing and Netball, Seven teams got 1st Runners up positions in Chess, Handball, Squash Racket, Kabbadi (c/s), Gymnastic Artistic, Football, and Cricket and Nine teams got 2nd Runners up positions i.e. Ball Badminton, Badminton, Archery Compound, Archery Recurve, Hockey, Indoor Hockey, Rugby, Kabaddi (n/s) and Swimming.
Recognizing the talent of sports women of the institution, college welcomed its players of National and International fame by presenting them bouquet, gold medals and trophies. It is pertinent to note that two of its cyclist players Ms. Amritha Regunath and Ms. Eleena Reji were part of Indian contingent at Common Wealth Games, Gold Coast, Australia.
Principal Dr. Pushpinder Walia congratulated the achievers and said that its a matter of pride to have such talent in our institution. She further added that BBK DAV has always promote sports and offers state of the art infrastructure to its players.